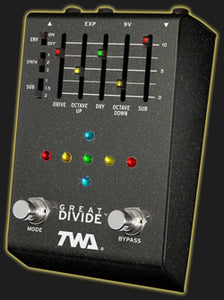 GREAT DIVIDE® (GD-01) - analog synth octaver
Totally Wycked Audio
Regular price $5,000.00 Sale
The New Math – The Great Divide® (GD-01) combines classic analog octave division with digital programmability to create the fattest, funkiest earth-shattering, ear-splitting octave unit ever!  
The Great Divide (GD-01) features five continuously blendable analog octave voices including Dry, Octave Up, Octave Down, Sub and Synth.
The New Math -

Sub can be user-assigned as -1 Octave Down, -1.5 Octaves Down, -2 Octaves Down or -2.6 Octaves Down (!) for massive low-end girth.
The Synth voice slams different octave waveforms together in a variety of combinations to create a dance-floor's worth of edgy, spitty, splattery Synth-fuzz octave effects.
The Great Divide's unique Octave-Up voice provides two modes of operation – the first is a standard Octavia-style octave fuzz effect while the "Envelope" mode creates a filtering effect that swells into the octave-up tone over time.
All voice and switch settings can be saved and recalled using the Great Divide's digital memory.  Switch instantly from deep-end Dub bass to ear-splitting ring-modulated fuzz at the touch of a button!  The tonality of each voice may also be adjusted via a massive array of internal Trim Pots and DIP switches.  External FX send/return allows user to patch in a secondary effect that is then controlled by the Great Divide.  
The Great Divide features True Bypass Switching and is 100% made in the USA!