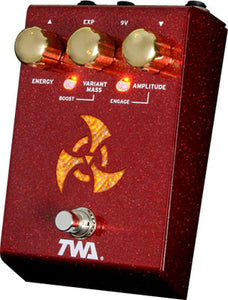 TRISKELION (TK-01) - harmonic engergizer
Totally Wycked Audio
Regular price $229.00 Sale
Order the MARK 3 version HERE.
TRISKELION HARMONIC ENERGIZER TK-01
The Triskelion uses vintage Synth technology to re-shape the harmonic structure of the input signal, adding punch, clarity and depth to any guitar tone.
The Triskelion's specially designed filter can create glassy clean tones, boost midrange for throaty solos, or tune your rig to any room for a wall of singing, resonant feedback. Massive amp sounds, explosive lead-breaks, infinite sustain, and downright nasty, energy-intense tones are just a few of the uses for the Triskelion – the possibilities are almost limitless!
The Triskelion circuit shares similarities with vintage units such as the Maestro Parametric Filter and the Systech Harmonic Energizer – this latter pedal was prized by several well-known artists, including Jim Walsh and Greg Lake.  It's most notable advocate was guitar legend Frank Zappa, who used the Systech for many of his throaty, mid-boosted solo tones. 
It's no surprise that Frank's son, Dweezil Zappa, relies on the Triskelion to replicate his father's guitar sounds for the ongoing Zappa Plays Zappa project.  In fact, Dweezil actually uses three – yes, THREE – Triskelion's in his live touring rig!
So if you're looking to step out from the masses and create guitar tones that drop jaws and drawers, then you owe it to yourself to add a Triskelion – or three – to your arsenal!  Get energized!
Since we've been accused of using hyperbole in our video explanations of the Triskelion, here's how it works in boring layman's terms –
The Triskelion is basically a single-band parametric EQ with optional gain boost.  The special sauce is in how the selected frequency and "Q" (or width of the boosted frequency) of the filter will affect the interaction between your guitar and amp.
Energy – Controls amount of frequency boost, or "Q" of the filter.  Maximum boost is +22 dB gain @ 130Hz; +16 dB gain @ 1 kHz or +16 dB gain @ 1.55kHz, if VM Boost switch engaged
Variant Mass – Controls the frequency to be boosted.  Control range is 130 Hz (full ccw) to 1 kHz (full cw) or 1.55 kHz (VM boost switch engaged)
Amplitude – When engaged, controls output level of Triskelion.  Maximum output is +18 dB (full cw).  However, amount of boost is frequency-dependent, and will vary depending on where VM and Energy controls are set.
VM Boost Switch – When engaged expands frequency range of VM control to 1.55 kHz (full cw).  While this adjustment seems like a small value, it effectively adds an octave to the EQ range of the pedal.
Amplitude Engage Switch – Turns Gain off/on, allowing Triskelion to be used as a straight EQ or EQ with Level Boost.
EXP Jack – Allows user to control VM setting using an external expression pedal.  Recommended unit is a Roland EV-5, but the internal pot connections must be reversed in order to work properly with Triskelion.  Click here to download a wiring diagram of the EV-5 modification. When using an EXP pedal with the TK-01, make sure that the VM control is set to MAX and that any secondary level controls on the EXP pedal are set to zero.
Power – Triskelion can run off a standard 9-Volt battery or 9-Volt DC adaptor with tip-negative polarity.  Current draw ranges from 40-80 mA, depending on control settings.  We recommend our PA-9 Power-All or similar device for clean, consistent power.
"This is the 1st pedal I reach for when I need a solo or lead part to jump out of the track or when I'm looking for a more expressive quality for the guitar tone."

- Matt Hyde (Grammy-award winning Producer, Engineer & Mixer)
"The Triskelion is a key to unlocking some insane guitar tones---the day it arrived it made it on a record! its an exciting pedal to play, and a great tool for the studio."

- Joe Barresi (Producer, Engineer & Mixer)
We first came up with the idea for the Triskelion while standing around our booth at the 2009 Winter NAMM show.  We were premiering the Little Dipper to a very positive response, and were riffing about what other types of "out-there" pedals we could create.
My thoughts kept coming back to the Systech Harmonic Energizer from the 1970's – I had read that this pedal was used by Frank Zappa and that a lot of present-day producers used it as a secret weapon for great studio guitar tones.  I was very intrigued by this pedal, because no one seemed to be able to tell me what it actually did!  I had missed a few on eBay over the years, but I decided that once I got back from NAMM, I was going to track one down…
Sure enough, as soon as I got back home a Systech popped up on eBay and I snagged it with the BIN.  About 2 weeks later, a second Harmonic Energizer auction came up, this one New Old Stock, so I said "why not?" and bought that one as well!  Yes, I am OCD…
It was a good thing I grabbed both, because we found some disparities and anomalies when comparing the two units that were actually pretty interesting.  We wound up building these quirks into the Triskelion design to make it more versatile than the originals!
By the summer of 2009 we had a working prototype of the Triskelion – the original working title for this pedal was the "Freak-Q," but I couldn't think of a good front-panel LED design that would represent this name.
Since the original was called the "Harmonic Energizer," we decided to go with a design that symbolized energy.  We found a really cool three-sided figure from the Sanskrit language that is the symbol for kinetic energy, so we decided to go with that.  Any three-sided figure with the arms emanating from a central point is known as a Triskelion, so that's what we wound up calling the pedal.  I realize that this may disappoint Trekkies who believe the pedal is named for the legendary Star Trek episode "Gamesters of Triskelion" – but if it's any consolation, that is one of my all-time favorite episodes (especially that hot Thrall chick Shahna – yum).
Okay, so maybe I should have researched the history of this symbol a bit more, since it also turned out to be the logo for a group of White Supremacists from South Africa!  Of course we're not down with racial discrimination, but more on that later…
We had some final prototypes built just in time for NAMM 2010, and the response to the pedal at the show was overwhelmingly positive.  People were noticing the Triskelion from across the aisle and coming over to see what it was and what it did.  It also helped to have a great guitarist like PJZ demoing for us, which was another first at this show.  One strange thing was that a lot of Christian musician's seemed particularly interested and excited about the pedal – more on that later…
When we got back from NAMM the guitar magazines had posted video demos of all our new products.  There was a LOT of buzz about the Triskelion, but much to our dismay not all of it was favorable.  Seems that a few people, particularly Europeans, were hip to these S.A. White Supremacists, and were coming down on us for using this symbol on the pedal!  The funny thing was that at the same time we received dozens of e-mails from Christian musicians who wanted to pre-order the pedal – turns out that the Triskelion symbol can also represent 777, the holy trinity of God, Jesus and the Holy Spirit.  Man, you just can't please everyone.  COME ON GUYS, IT'S ONLY AN EFFECT PEDAL!!!
Anyway, we figured that it was probably best to not offend, so we revised the design of the pedal and created our own Triskelion symbol, which of course cost more development money and extended the release date into the future by about 4 months.  To this day, we still get guys asking for the "777" version of the pedal.  Sorry guys - we're all for the holy trinity, but we're not down with racism!
So all this time we're thinking "man, once this pedal is finished, we've gotta contact Dweezil Zappa and see if he'll try it out."  Lo and behold, one February morning I plop down in front of my computer and sitting in my inbox there's an e-mail from – you guessed it, Dweezil Zappa!
Turns out that Dweezil had seen some of the NAMM videos of the pedal and was actually looking for a replacement for his Father's Systech H.E., which he had been using for the Zappa Plays Zappa tours.  At this point there were only three Triskelion's in existence, and Dweezil asked for all of them – something about that number three!!!  We actually had to have additional prototypes built to accommodate his request – not that I'm complaining or anything…
Dweezil wound up digging the pedal and put all three Triskelion's into his touring rig – one on each Fractal Audio amp in his rack and then a third on his pedalboard for a foot switchable solo boost.  I finally got to meet him in June of 2010 at the Tarrytown Music Hall, and then again this past summer at the Dweezilla Bootcamp up on the Catskills.  He's a true gentleman - extremely dedicated to his craft and to accurately reproducing his father's music and sound, so it's really a GREAT honor to be working with him.
Right after the Bootcamp we shot footage of Dweezil demoing the pedals at the State Theatre in Easton, PA.  That video can be seen on this webpage and there are also audio clips from the Bearsville, NY show of Dweezil using the Triskelion on the Track "Pajama People."
In addition to Dweezil, several other notable artists have gotten hip to the Triskelion – among them is grammy-award winning producer Matt Hyde, who has a Triskelion in his toolbox and has used it on several recordings already, including Monster Magnet and Skeleton Witch.  See Matt's comments below…
So that's the story of how the Triskelion came to be – I hope you enjoyed reading it as much as I enjoyed living it!  Thanks for taking the time…
Cheers,
Kevin
Godlyke, Inc./TWA